Every Mile Matters, Especially at the Boston Marathon
By Shirlee Webb
Boston Marathon has proven two times now that things can change in a twinkling of an eye. Both times I have run it the weather was forecast a week out to be the perfect weather for a marathon and then within a couple of days before the race, has changed from one extreme of heat three years ago and to the extreme of cold, wet, and windy as warned in an email the day before the race this year.
What I have learned from both of these experiences is that the one thing you can always count on in life is CHANGE! The most important principle I learned is to be unchanged by change. It is what it is -so be it- I realized I needed to keep the same desires and goals I had made for under the best of circumstances, yet be willing to not have the same outcome I had hoped for if circumstances changed. I no longer had the ideal I had hoped for. I realized we can set ourselves up for disappointment and failure if one can't rise to the "changed occasion."
I knew before I ran this marathon that I had decided it would be my last, I have felt a need to quit while I am ahead. I love half marathons and hope to run them til I am called Home, but I also know that these long runs will sooner or later have an effect on me for the worse and in some ways, this run did.  I had a cancer scare the first two months of this year and I wasn't able to do anything and I felt that lack of training in this race.
Two weeks later I continue to feel extremely tired and I have gotten some of the physical challenges back that I experienced with the cancer scare.  So I know this is the correct decision for me to make. As life winds down in later years I am sure I will make decisions required in rethinking running even half's although I hope not too soon.
Boston Marathon is always exhilarating because of the great people we are surrounded by throughout the whole race. Those great folks who volunteer by the thousands and the great support we receive all along the way by the public.  I didn't even listen to my music this time because of the enthusiastic noise all along the route from Hopkinton to Boston. It never let down–they were getting as wet as us and the wind and cold was there for them too.
I experienced the great human spirit of endurance as I passed the fellow with Muscular Dystrophy who took 20 hours to run and was that long in the pouring rain.  I was also very humbled by the two blind fellows who had guides and were joyfully running alongside of me several times.  I sometimes heard the words in my mind "God forgive me when I whine."
Like three years ago it proved to be a run of endurance. Last time 93 degree heat from the get go and this time, the very cold, wet, and windy weather.  I had to change my four hour or less goal and I had to decide just to do my best and just finish. Even though circumstances changed, I felt complete joy when I finished no matter how ugly it was!
I am grateful and thankful to again learn the lesson that you can always do what you set out to do by not changing yourself nor the desires of your heart and finish anything you desire to do even if the circumstances change. When things become hard, don't become hard with them. Find the joy in the journey whatever it gives you. I feel gratitude alone that I can still run at my age and find such great joy in it.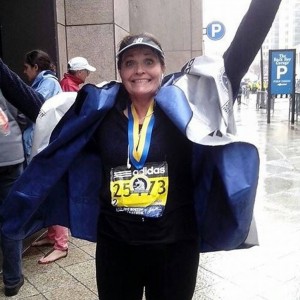 About Shirlee:  She ran her first marathon when she was 45 years old, after giving birth to eight children. She is now a 63 year old grandmother of 13 grandchildren, plus one on the way. She has battled depression and raised a severely mentally ill son.  When she first started running she barely made it around the block before she stopped, but she kept getting up each morning and gaining distance a little at a time.  When she was 60 she ran the Boston marathon for the first time, in the hottest weather on record, 90+ degrees. Today, at age 63 and 1/2, she ran Boston in the coldest weather, 43 degrees, and finished in 5 hours. She said that today it rained the entire time she ran and it was just as hard as running in the heat.  If anyone ever tells you that you can't do it, just remember this, YOU CAN. When the voice in your head tells you to give up and quit, you tell that voice, NO WAY! We were born to do hard things. YOU CAN DO HARD THINGS!
 FEEL FREE TO LEAVE SHIRLEE A MESSAGE IN THE COMMENTS BELOW
**Do you run, jog and/or walk? Or do you want to start?  Join us at  Moon Joggers! Join our main event, MEET ME ON MARS (one of the paid registration options) now and you'll be able to save 25% on all of our virtual races! Sign up HERE. (Use code BOSTONSTRONG to save 30% on Meet Me on Mars). You can also sign up for their free option and start logging your miles now. We have thousands of members around their world logging their miles with us to help us run to Mars this year!  Your miles will help us!
Comments
comments