Meandering thoughts from the trail: Finding the positive.
I knew before I even attempted this event that it was going to be hard. I like to try to have confidence but this race would be a challenge, as it was unlike anything I had ever attempted. I would be attempting the Squamish 50/50 on the weekend of August 16/17. Squamish is a highly technical course with lots of hills; it was a 50 mile race on Saturday, followed by a 50 km race on Sunday. In the end I didn't actually finish either day, but I did start both days, and never gave up but rather timed out before I reached the finish. The following is how one should look towards the positives they gain, the lessons they learn and the fun they had. Here is my story.
Going into this event, I knew that it would be a challenge. I had a hard time visualizing how the race would go and that for me was a mental challenge. So the number one gain I got from this weekend was knowledge. I now know most of the course; I know the set-up, the start and logistics. I know that most of the training I did was spot on, and now I know what I can improve on: downhill running. One person wisely reminded me that "instead of focusing on my weaknesses, celebrate your strengths and continue to improve".
The first day 50 mile run started at 5:30 am. It was extremely muggy and within 5 minutes after the start I was soaking wet. Very early on, I was not only at the back of the pack, but I was a long ways back and at about 5 km in I saw the sweepers. There were mosquitoes and black flies that had a good meal of me as I slowly progressed. Interesting fact, it seemed that with continuing exercise that the bites by the end of the day did not itch. After the second aid station, the next sweeper asked if she could join me. I welcomed the company. It was so fascinating as she had a race radio and as the day progressed I could hear all the carnage that was occurring out on the course, various racers dropping from the race. My thought was better to be last than to give up on this course.
In long endurance events it is best to focus on small goals. So throughout running the first half of the course I had the fifth aid station (where the first time cut-off was) as my goal. I got there with an hour to spare, but as I continued on the cut-offs were going to get tighter. At the final aid station I missed the cut-off by a mere 10 minutes, 70 kms or 43 miles completed. At the time I was relieved as it meant I would get to bed earlier as it was going to be another early start the next day.

When I got back to the hotel room, I focused on taking care of my body: bathed, ate, and iced my knees. It was difficult to get to sleep as the achy pain in my knees prevented me from getting comfortable. Plus the 3:30 am alarm was weighing heavily on my mind. Over my years of racing I have learned that when I am not sleeping the night before an early start I just tell myself, "Your body is still getting rest and being re-energized by just lying in bed, it is okay".
I was pleasantly surprised the next day when I woke up and realized that I actually felt pretty okay. I knew it was going to be a slow day, but again I just focused on the first time cut-off. This day I had a whole pack of 8 sweepers and it felt like a group run of the best kind. I got to be the lead, set the pace and got constant encouragement. They even made me feel good when they tripped on a route or a rock, and one of them complained about having a hot spot on their foot. It was a fantastic day. We caught up to one other runner who was suffering with pain in his Achilles. He was just trying to get to the next aid station to drop. I had seriously thought, "I should drop there too". But my running group encouraged me to go on. There was no way I was going to make the time cut-off but at least I got my money's worth and ran us much of the course as they would let me. The second day I covered 27 km, approximately 17 miles.
I feel good with my effort. Proud of what I accomplished. I had fun, met lots of fantastic people and saw many things on the trails. There were parts where I was strong, one section that I actually was able to run very well, and there were sections that challenged me. But I know that I can do it, eventually. I know that when I go back next year, I will have the experience of this year, and I will again do my best. Always enjoy the run and keep on keeping on, at least until they say you can't.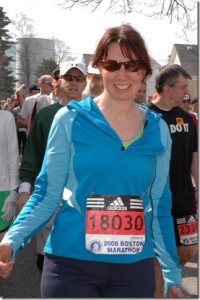 Biography:  Sheila being 49 years old, single, with no kids has the perfect lifestyle for becoming an obsessive runner. Her 77 year old mother, Catherine Campbell (another Moon Jogger) moved in next door to her in 2000. After cheering Sheila on at multiple marathons, Catherine finally caught the running bug. Sheila taught her to run in 2009 and this year is very significant as Sheila is training Catherine to complete her first ever half marathon. Sheila works for the Government of Canada as a fish health technician but longs for the day when she can retire and dedicate even more time to her passion…running.
Comments
comments