Both Hills and Valleys: Same Path, Different Person
by Michelle Roberts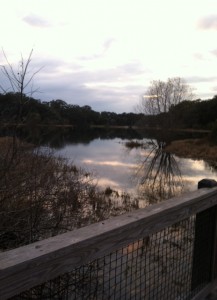 Stepping out the door this morning for my longest distance yet I thought about all the time I've spent on the trails in my neighborhood. The same path along the lake that I pushed my daughter's stroller for the first time. The same sidewalks around the pond and gazebo that I walked when I felt my heaviest after she was born and so needed the exercise. The same gorgeous oak trees and Spanish moss I've taken pictures of over and over these past twelve years since my husband and I moved in as newlyweds. And the same 2.5 mile distance I trained on every morning before my first half marathon last year so I could log my Moon Jogger miles.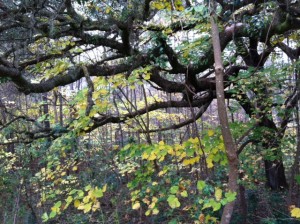 But then I realized just how much I've changed. I moved so many times as a kid that I never stayed in one place long enough to recognize how different I'd become while my surroundings stayed the same. We moved from place to place and school to school until I started 7th grade so I grew accustomed to new friends, new teachers and new neighborhoods. Through my 20's it was difficult for me to go from year to year without a fresh clean slate – an adult "do over". It's only this secure and stable life that's given me the opportunity to reflect on all that I've learned recently. And many of the lessons from 2013 lead me back to my first year with Moon Joggers. Here are just a few.
1. Don't compare. I've heard this so many times before but Moon Joggers was my greatest teacher. Where would any of us be if we compared ourselves to Perry Newburn and his 7,000 miles? He'll be the first to tell you to do your best with what you have. Not even Perry started with 7,000 miles under his belt. Because we're all setting individual goals and overcoming our own obstacles, nothing good can come from comparing ourselves to others. These days I try to trade comparison for inspiration and your posts forever push me forward. The days of passing "real runners" along the trail and wishing I could run that fast, be that strong are over thanks to Moon Joggers. I understand now that I can, that it just takes work and time. Now when someone passes me I smile to myself that they'd never guess how many miles I logged last year. But I know and that makes all the difference.
2. Celebrate your accomplishments.  Moon Joggers are great at this and Angie has encouraged all of us to celebrate every step from 1 mile to 100 miles. My favorite post of the New Year so far was from Ingrid Auerbach who was celebrating her mile after explaining "one of the major things I dealt with was a brace on the right knee and 5 months post op knee replacement on left." That mile and the proud smile on her face crossed my mind many times this morning. I'm so glad Moon Joggers is a place where runners/walkers of all skill levels can share their victories and be congratulated. Her post has 189 likes and 46 wonderful comments to date! Makes me proud to be a Moon Jogger!
3. Keep reaching!  Moon Joggers aren't the type to rest on their laurels. With each victory comes another, even bigger goal and the members are always there to support us when we're convinced we've bitten off more than we can chew. If I remember right, it was barefoot Bob Nicol in Canada who allowed me to entertain the idea of registering for my first full marathon only a year after my first half. When my husband read my post about the marathon February 2nd, he said, "Why did you register for a marathon? They're for real athletes. It's not a charity walk." Before you jump to my defense, understand that he thinks he's protecting me. From failure. From heartbreak. But all the years I lived life as a perfectionist in my teens and 20's have created an awfully thick skin and warrior's heart. Since I never lived up to my own expectations, everything seemed like a failure then.
An English teacher in high school told me that, "Your reach should always exceed your grasp." It's only recently that I've realized that the joy is in the reaching and achievement is often secondary. We are all growing stronger because we try when other don't.
In the months ahead, let's all forge a new path to new places with our shiny new selves. I hear Venus is beautiful this time of year!
PS – My husband has his ways of letting me know he believes in me. He surprised me by adding "Jump Around" by House of Pain to my playlist to keep me going during my 17 miler today. "Jump up, jump up and get down!" 😉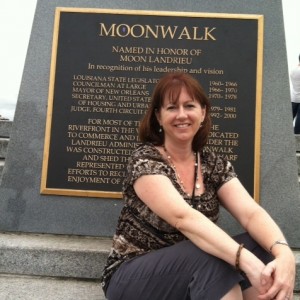 ABOUT: Michelle Roberts lives in Tallahassee, Florida, with her husband, Paul, and two children, Ashleigh (10) and Philip (8). She ran her first 5k in October of 2012 and her first half marathon in February of 2013. She was diagnosed with Bipolar Disorder in 2001 and maintains a healthy balance without the use of medication thanks to a job she loves, a supportive family, regular exercise, her writing and therapy. A wonderful life of "Both Hills and Valleys".
"The marvelous richness of human experience would lose something of rewarding joy if there were no limitations to overcome. The hilltop hour would not be half so wonderful if there were no dark valleys to traverse."
Helen Keller
Comments
comments