WHERE MY FEET HAVE CARRIED ME
By Dawn C. Hansen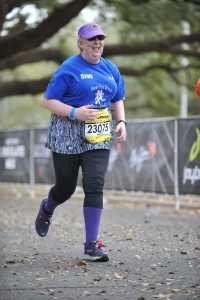 When we start out walking our feet take us around our parents' home. As we grow, the places our feet take us changes. From the house where we grew up, to school, college, the service, or a career, around the block, and around the world.
I've had the privilege of walking around Duluth, MN, Plattsburg, NY, Burlington, VT, West Germany (yes, West Germany, they were still divided when I left), Luxembourg, Belgium, the inaugural Goofy Challenge and a Half, in Orlando, FL, and many other places across the country, and around the world.
I've started races I've had to withdraw from, and others where I'm in after the course has closed resulting in DNFs, everyone's least favorite acronym. There are always reasons to run, and times to acknowledge the limitations of not just your feet, but your body too.
This year my feet should have carried me along the shore of Lake Superior for Grandma's marathon and through Missoula, Montana. Unfortunately, I only made it 13.5, of my planned 26.2 miles for Grandma's in Duluth, MN. Heat finished that race, but I got to cheer in two friends, and fellow Moon Joggers, Jan Haley, and George Frew, as they finished their first marathon.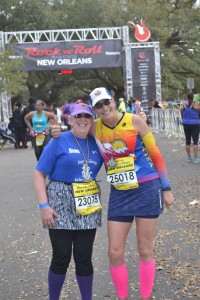 Presently I spend more time cruising around Anchorage, Alaska, but in September I finished my last leg on the Klondike Road Relay. Ten legs beginning in Skagway, Alaska, running through British Columbia, Canada, and finishing in Whitehorse, Yukon, Canada, for a total of 110 miles. I've walked, and run everything from a mile, to Anchorage's own 49k in the 49th state. I have sworn off winter marathons years ago; and then did Rock – n – Roll NOLA this past February. My fifth distance event in the winter, and I'm signed up for Dopey, at Disney World, in Orlando, FL, this coming January. Did I mention training for these distance events in warm climates, while it is cold in the North, is a challenge? I train on snow, and ice, so I can go run in a skirt, light weight t-shirt and regular running shoes after wearing studded shoes for training. I can hear you laughing! As well you should. I break every rule of running, and then sign up for another race, but like everyone reading this. I'm in very good company.
Some of you, I've had the privilege of meeting at races outside, others I look forward to meeting in the near future. I'm looking forward to our Moon Jogger Ultimate Meet Up, when my feet, and yours, can take us around some of the sights of Utah, and beyond.
These are just some of the places my feet have taken me. Where will your feet take you?
Comments
comments