Introducing Michael Brandt – Moon Jogger
Michael Brandt (El Dorado Hills, CA) age 71, just completed his 15th international marathon at the 29th Marathon du Medoc held in Pauillac, France on September 7, 2013.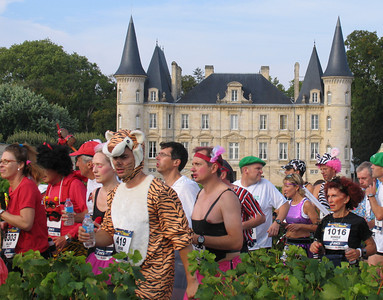 This was by far the best marathon I had ever participated in – hands down, and it is not your typical race by any means. Nowhere in the world will you find a marathon that is as entertaining as the Chateau du Medoc Marathon. For many, such as myself, it was a destination marathon and a must for seriously die-hard marathoners.
When you arrived at the start on race day, the sponsors had a Las Vegas style Circus Soleil atmosphere with music, a thirty foot high balloon act with a performer underneath spinning around as well as other street performers. You were immediately immersed in the festive atmosphere with 90% of the runners in elaborate costume making this a "must do" marathon. As the 8,500 marathoners gathered, -this year's theme was science fiction- costumes ranged from Princess Leias (both males and females dress like her) Darth Vader, Trekkies, Avatar's Navis (painted blue was very popular), Leelo of the 5th Element, Yoda, and one hairy Chewbacca.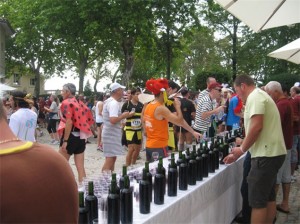 All 26.2 miles (which was recorded by a GPS at 26.8 miles) was a wine drinking party or at best described as a – binge with a marathon! Approximately 20% of the participants came from 55 countries and six continents. Most of the runners were not interested in time, except for the winners who won his/her weight in wine. The course looped around 59 stunningly beautiful Chateaus of which 22 served wine. The course ran through quaint picturesque French towns and Chateaus with extensive crowd support. Twenty-five musical groups -from string quartets, and school bands, to bag pipes -entertained the runners and the town's people turn out. Families having picnics along the roadside added to the spirit of the marathon.
The time limit was 6:30 and I finished in 6:28:55. It was not a true marathon in the sense that you needed to finish for time, but more of a "happening," or maybe an adventurous experience that occurs no-where else in the world. I stopped at many of the elegant Chateaus, joined in the camaraderie, drank some wine and met new friends. At the finish the organizers gave everyone a marathon medal, a nice commemorative backpack, a commemorative bottle of wine in a wooden 29th Marathon Medoc box, and a plastic drinking cup – for more wine – "oui."
The day after the marathon the sponsors hosted the "Balade," a 9K recovery walk which turned out to be a 7.8 miles or 12.5 kilometers. To participate, one had to register beforehand since it was limited to 4,000 walkers. When you entered the hosting Chateau, they gave you a bright lime-green wrist band and a Tastevin vessel which is more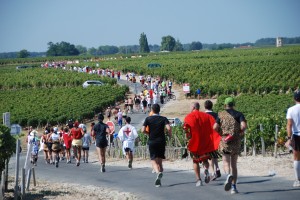 commonly known as a Sommelier's wine tasting cup with a cord for hanging around your neck. The course traveled around multiple vineyards serving even more varieties of Bordeaux wines with an elegant lunch inside huge tents at the end of the walk. A traditional lunch was served and each table had multiple bottles of wine. For refills, the Chateau had a tapped casket with a spigot which you just walked over to and filled your bottle. What a party; make that a two day BINGE, with a marathon thrown in.
Michael Brandt is a veteran marathoner having completed marathons on all Seven Continents, fifteen countries and 105 marathons. Michael can be reached at 916.205.7211 or makbrandt@yahoo.com.
Comments
comments