Sole Running: Tales from the Trails
Actif Epica: 2014
The Journey
By Bob Nicol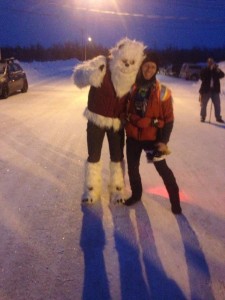 What started as such a promising day with my sights on a most epic adventure quickly turned into my worst nightmare. Yes this was Actif Epica 2014, my second year running this fantastic event. Last year was hard, cold and at times some very deep snow…..and of course 120 plus km of winter running over unforgiving terrain. I completed it last year, even 2 hours faster than I originally anticipated, this year my goal was to run it faster. I wanted to shave another hour off of my time and not get lost like last year, but it was not to be, my first official ultra of the year went wrong……so wrong.
I should have heeded the signs that this event was not going to go as planned, as things started to go askew the night before at the official gear check. My usual meticulous organization skills (I say this tongue in cheek) were showing flaws in it's usually dent free armor as two pieces of my mandatory gear were not in my pack and I would have to check in again in the morning (not a big deal but a small annoyance). This was just the beginning of course, as my usual race routine was totally thrown out the window to my total dismay. Let me elaborate with a few examples, I got sleep the night before (actually more than 2 hours), I did not have to fight with my fluid bladder to get it into my pack and actually be able to get water out of it without having to redo it 2 or 3 times and strangely enough I was able to grab a relaxing shower and a full cup of coffee prior to exiting the house. I know you are probably scratching your head and wondering why these are bad things, but honestly unless my pre-race ritual is full of total and utter chaos I find things go wrong on race day very quickly, and true to form they did.
I am not going to lie to you; I was so looking forward to this race. I was running (well at least starting) the race with my lovely wife of almost 19 years, I was determined to start my 2014 long distance racing season with a good strong finish to a tough race and of course I was planning to have a whole lot of fun doing it. This is the type of event that you need a good attitude going into it, because so many things can go wrong that you just can't control no matter how hard you try.
It was an early start for sure, we had to be up by 3:45am to do any last minute preparations and get on the road to pick up one of crazy running friends for 4:30 prior to getting to the scheduled pick up location for 5:00 am. This was just the start from here we needed to board a bus and travel 75 minutes (or approximately 75 km as the crow flies) south to the town of St. Malo in Southern Manitoba. This was where the race officially started and where my miss-adventure would begin.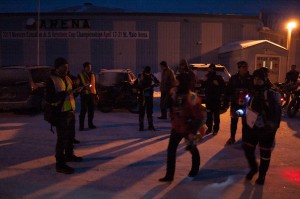 The runners getting ready to run and last minute instructions
The run started at 7:00 am sharp with the runners getting across the start line an hour before the bikers, most years we need that grace time to get as far ahead as possible before they bomb past us like we are standing still…….not so this year. With the deep snow to contend with the bikers had less of an advantage as the extra-curricular activity of the bike push took precedent and gave the runners a bit more of cushion. In fact I was running a slower pace this year also due to the snow and I got an additional 4 to 5 km farther this year prior to the first bike passing me, can we say "SCORE"….yes I knew you could. All was going fairly well, the perfect running conditions for my mukluks were holding, just cold enough.
The only issue was traction, with the snow being dryer than normal (yeah I know that doesn't make sense does it) this year and a defined icy hard pack below due to the cold temps I had to ensure that my foot placement was careful and deliberate. No mistakes or room for error. To best understand this, try running on a sheet of plexi-glass that is covered with 12 to 36 inches of soap flakes (the only thing I could think of that would relate), let's just say traction is non-existent.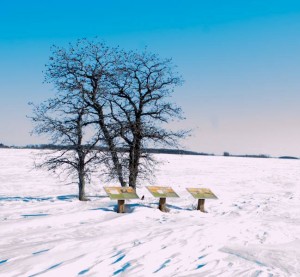 A photo from the middle of the race on the Crow Wing Trail
Things were going well as I was picking up valuable speed and distance and even with a more deliberately slower pace than last year (less walking the deep snow and more running), I was ahead of my time by a good 30 minutes. Not too shabby for being only about 20km into a 120km run. My smile was growing as I was getting closer and closer to Check Point One: St. Pierre Jolys, a modest 26km into the race. This is where it all started to fall apart; two bikers who were ahead of me on the trail went down hard as their tires slipped out from underneath them in a big heap. My first thought was to slow down and be extra careful with footing as it was obviously not good…..then it happened. I was leaning to the left to stay on the hard pack and my right knee decided the other way was the right way to go and I heard that sound as a runner that you do not want to hear ever…….*pop*!!!!! I knew my day was done, but my heart did not want to relinquish. I hobbled the last 6 km to the check point……cursing all the way hoping that it was just a temporary thing.
A few test runs resulted in sharp pain and a slightly swollen knee by the time I pulled the pin and call it a day. With 90 plus km to go there was no way I could hobble my way through the deep snow to come. Sometimes you just need to know when to shut it down and live to fight another day.
…….And another day I will fight…….in the words of the Immortal Terminator T-800 Series, "I'll be back!"
May your soles be bared to the ground……..
……Happy Running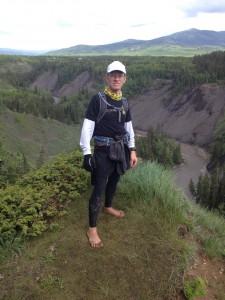 Bob is a barefoot runner from Canada who has been lucky enough to discover the passion of running. From running 5 km around his neighborhood with his faithful husky Hazel to running 100 mile Ultra-marathons over nasty terrain, Bob runs with a smile and an encouraging spirit. You can also follow his ramblings at Canadian Running Magazine Online (http://runningmagazine.ca/blogs/bare-my-soles/ ) and his personal blog, http://winnipegbarefootrunners.blogspot.ca/.
Run Strong, Run Hard, Run Happy and Run Free……………….
Comments
comments