Meandering thoughts from the trail: Dear Mom
by Sheila Dawe

The following letter is intended for all broken Moon Joggers that are sidelined with an injury. My intention is that, despite this being a personal letter, that others can find some encouragement from the sentiments below.
Dear Mom,
                Last Sunday one of my biggest fears came true when I came home to find you icing your ankle and informing me that you twisted it. Little did I know at the time that it was worse than you had thought or I had imagined. The next day after a doctor's visit and getting x-rays done on your ankle we were informed that you broke your fibula. I know that this will be a tough six weeks adjusting to a completely different lifestyle than you are used to. Our plans for your first half marathon will need to be delayed, but let's not use the word cancelled but rather postponed.
                One thing that I want to make sure you know is how strong and determined you have been the last five years in your running journey. There are very few people that would attempt to learn to run at age 72. I know for a fact that you are a tremendous role model for both the young and old. Know that no matter how fit you are after your leg heals, we will be able to resume training. Granted you will not be at the same fitness level you were before the accident, but even if we start from square one, you will be able to train for the distance and you will be able to run your first ever half marathon.

               There is knowledge that we have gained from the last 3 months of training. We now know that the training schedule was working. We found ways to adjust when weather made it difficult to run our planned route. Each week you gained confidence as the long run distances increased, surprising yourself as you were able to complete distances longer than you thought possible. We found ways to properly fuel and take fluid. The program was working. When we start the program again you will be coming from a place of knowledge and experience which should just further enhance the experience of training.
                I miss our weekly long runs and every other day core strengthening exercises. It was rewarding for me to see you grow as a runner and know that you were gaining so much more besides physical fitness. But besides the good feelings I got from mentoring you, I also gained something much more unexpected…I too was getting stronger. One very important lesson that I have learned is that you don't have to always run faster, or do more reps to get stronger. Consistency is far more important than increasing the difficulty. A thought to keep in mind as we will be starting with baby steps and work towards building physical strength. Remember you only can do what your body is capable of doing.
                So have no fear. We shall return to our favorite streets again. We will revisit our scenic route and then slowly advance to other areas of town. We will sign up for a half marathon. We will finish a full 5 months training, getting to run the farthest distance you have ever run. You will get to experience that horrible sleep the night before your first half marathon. We will make it to the start line. We will run together, and I am sure you will hear the familiar words from me "slow it down a bit." We will get to the point where you will think "I'm doing this!" Then another 5 km later you will have the thought "Why am I doing this?" But we will keep on keeping on and eventually we will hear the sound of the announcer and the cheer of the spectators. Then we will finally turn the corner and there will be that finish line. Yes, I will be annoying, as I try to push you to go a bit faster.  We will finish together, strong and with a big smile on our faces and perhaps a tear in my eye.
We will run a half marathon. A broken leg is not going to stop you; it is just going to delay the inevitable. And possibly you will be a better runner for it. For now you have all the experience of our training we just did and we will appreciate each day that we are able to run. Here's to our next half marathon, it will truly be something special.
Love your daughter, coach, and running partner
Sheila.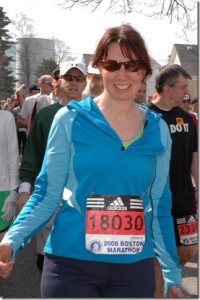 Biography:  Sheila being 49 years old, single, with no kids has the perfect lifestyle for becoming an obsessive runner. Her 77 year old mother, Catherine Campbell (another Moon Jogger) moved in next door to her in 2000. After cheering Sheila on at multiple marathons, Catherine finally caught the running bug. Sheila taught her to run in 2009 and this year is very significant as Sheila is training Catherine to complete her first ever half marathon. Sheila works for the Government of Canada as a fish health technician but longs for the day when she can retire and dedicate even more time to her passion…running.
Comments
comments